Bonded seals are metal washers with rubber inserts for use in high-pressure applications.
Bonded Washer is a self-centralizing, rectangular section metal washer, with trapezoidal shaped sealing rubber bonded to the inside.

Bonded washers are used extensively for sealing under the heads of bolts in high pressure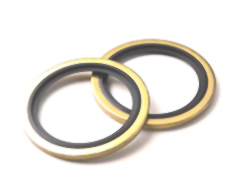 applications where copper washers would be unsuitable. They are often used in hydraulic and pneumatic connections that are subject to extreme pressures.

Both washer and sealing element can be selected to suit your specific application and can be supplied in a variety of metal and elastomeric materials.

If you require further information or enquire, please contact us. Simply call us on: +8620 36013580, or e-mail us: sales@dkirubber.com.